Blog
/ Cutting off some more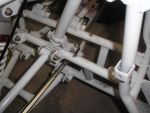 Cutting off some more
Posted on 10 January 2013 at 10:32 pm (CET)
Posted on 10 January 2013 at 10:32 pm (CET)
Today I continued again cutting off some parts of the frame.

Upper plate for mounting the radiator is gone.



I must say it's a pretty solid frame. Took quite some effort to cut through it.

Bottom plate for mounting the radiator also gone.



Bottom engine mounts also gone.



Only the upper engine mounts left now and then I'll have to even out everything a bit with the rest of the frame.

Meanwhile I ordered the motor at LMC Ltd. and some other parts. Will probably get it within 2 weeks. The controller sadly had a delay so I still have to wait a bit longer for that. As for the batteries, I'm still waiting before I order them since I'm not sure yet if I will actually go with the CALB SE70's.