Blog
/ First assembly complete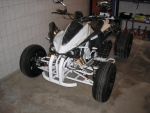 First assembly complete
Posted on 25 November 2012 at 07:53 pm (CET)
Posted on 25 November 2012 at 07:53 pm (CET)
The quad bike is fully assembled now. All parts look to be complete, even though there were some small mistakes in the wiring, a weld that was in the way and a missing thread for a reflector but this was all easy to fix. Also measured everything for the future parts that will go into it. I'm really happy I chose for this quad bike, it looks amazing and is just perfect for this project.



I'm not going to ride it since I want to sell the engine and other parts as new but ofcourse I couldn't resist sitting on it for a while to feel what it's like. And it felt great, really looking forward to the day I can actually ride it.



With the purchase of this quad bike I also got bordeaux red fenders. The white ones will go back to the dealer once they're off. I just still have to receive red ones for the sides as well.