Blog
/ Fitting the batteries and controller's enclosure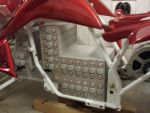 Fitting the batteries and controller's enclosure
Posted on 26 May 2013 at 05:23 pm (CET)
Posted on 26 May 2013 at 05:23 pm (CET)
Just tried fitting the batteries, I have good news and bad news.

First the bad news, they don't fit the way I've drawn them.

And then the good news, they fit even better. Instead of 5 battery boxes I will only need 4 since I could still fit 1 more battery where the radiator used to be.
The battery box with just the one battery will no longer be needed which I'm very happy about. I had no idea how to place the cable glands to let the orange cables pass through. On the top and side the frame would be in the way and pointing it towards the ground didn't seem like a good idea either.
So they all fit perfectly and there's still 6 mm of space everywhere as well for the battery boxes to go around the batteries. Here are some pictures again.



The big empty space in the middle of the frame is where the charger will come and on the sides of it probably some smaller parts of the BMS, display and main fuse.

I also hung up the controller's enclosure with cable ties. I want to have mounts made for this that will come down from those 4 points where the exhaust silencers used the hang from. But I'm not sure yet how I want to have this.



That was it for today.