Blog
/ Battery box #4 all glued up and fitting box #3 and #4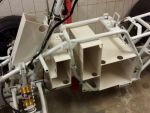 Battery box #4 all glued up and fitting box #3 and #4
Posted on 29 June 2013 at 09:09 pm (CET)
Posted on 29 June 2013 at 09:09 pm (CET)
The last battery box is all glued up now. Was a bit tricky with that extra corner in it but I succeeded. The batteries are firmly packed but they're also still easy to remove.



Here you can see how these last 2 battery boxes will be placed.



Here all 4 together.



And a picture of the whole quad bike.



Unfortunately the motor is still off the rear swingarm and also no progress with the controller yet. Nothing has been done yet with the adaptor and mounts. No idea why it's taking so long this time. But it will come sooner or later. For now I can continue with finishing the battery boxes anyway.