Blog
/ Wheels spinning for the first time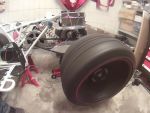 Wheels spinning for the first time
Posted on 14 September 2013 at 10:00 am (CET)
Posted on 14 September 2013 at 10:00 am (CET)
See here the biggest moment of the project up untill now.

It's alive!


Just on low power ofcourse with such small wires, 20V 50A maximum so 1kW. But I didn't really see 50A, think the wires are just too small for that and the 9Ah battery of the quad bike was empty pretty quick.
I also saw that the wheels are quite unbalanced. It could be many things though so I don't know what is causing it exactly. Could be that the rear axle is bent just a little, common problem with Chinese quad bikes. Could also be something with the bearings in the bearing house. And the wheels themselves aren't balanced yet either. It's also a straight axle and there's no weight on it, could be that it's bent a little because of that.
Tomorrow probably with some more power and hopefully a short testride.