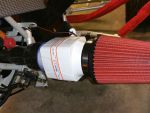 Posted on 17 August 2015 at 11:26 pm (CET)
Posted on 17 August 2015 at 11:26 pm (CET)
Last weekend I've been busy again with the cooling for the motor. The 3 fans I had placed below the motor I turned around so they draw out air from the motor.

The in-line blower I also turned around so it's blowing cool air into the motor. Ofcourse I needed an air filter for this so I went and bought a big one that has the same diameter as the fan itself. This is what it looks like now.



I turned on the in-line blower for a short moment to test how much air would come out of it. And I was very pleased with it, I was just blowing away everything that was lying on the floor. Since it's going from a big to small diameter there's quite some air pressure. After this I placed the whole thing on the quad bike again and when it stopped raining outside I went for another test run.



Ofcourse I expected it to work a little better than how it was before. With the blower on I actually felt air coming out of the motor. The air is being blown everywhere through the motor now and also passes the brushes so they're being cooled constantly. But during testing I just couldn't get the temperature to go above 51 degrees celsius. Every time I let go of the throttle I saw the temperature drop below 50 degrees celsius again. And when I stood still for a moment the temperature dropped to 30 degrees celsius within just a minute.

It actually seemed too good to be true. So I went for another lap after this and now with full power while accelerating. Again it didn't go above 50 degrees celsius while during the last test run it actually was at 73 degrees celsius and that wasn't even the maximum. But that 50 degrees celsius actually does seem to be the maximum temperature now for normal driving. Ofcourse it probably will be a bit higher if I really use that full power a bit more but if it drops down to 50 degrees celsius again after that then I'm more than happy. So I think I can say with some degree of certainty that the temperature problem of the motor is finally solved! :)



I now still want to try removing those 3 fans below the motor because I have a feeling that these aren't really helping that much and that only the in-line blower will be enough. Also still have to see how I can properly mount that in-line blower. I definately want to place some rubber inbetween since it vibrates pretty much.

I also want to ride a longer distance now to see if the temperature will actually stay around that 50 degrees celsius, even with 80 km/h (50 mph). But I don't really expect any problems anymore with the temperature now.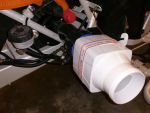 Posted on 12 August 2015 at 12:04 am (CET)
Posted on 12 August 2015 at 12:04 am (CET)
After making a few modifications the motor gets cooled a little better now. The motor doesn't get warm as quickly now and when standing still the temperature drops rather quick. But still the motor does get a little too warm after riding for a while, even on continuous power.

First modification is 3 fans right below the motor, these blow air from below through the motor. For testing I just attached them with some velcro.



I just have the idea that it doesn't really work that great while driving since the airflow is probably pushing all of the air out of the way. So I'll have to close this off a bit with some kind of air intake on the bottom, should work a bit better then. I also ordered the wrong fans, these don't have enough airflow. I've now ordered some that have double the airflow and are a little bigger.

The second modification is a hole in the protective cover of the motor. I just placed a hose on there with the in-line blower. This one sucks the hot air out of the brush area.



This seems to be working pretty well, just makes a lot of noise. But even like this the motor still gets a bit too warm (73 degrees celsius on continuous power). I could still try to turn around the in-line blower to push air into the motor. Just still have to add an air filter then.

But at least for testing I can now ride a bit longer distance. I've done this a few times already. Here's a video again of last weekend. Went out for a ride in the evening, came across 3 very nice classic cars just within 15 minutes of riding time. Also did one more lap in the dark, thought that was pretty amazing. :)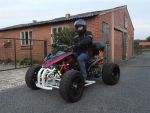 Posted on 7 August 2015 at 08:56 pm (CET)
Posted on 7 August 2015 at 08:56 pm (CET)
This update is a little bit late but I needed some time to edit the video. Last weekend I finally had a lot of fun with the first few road legal runs. They were just still test runs though since the problem with the motor temperature is still present. In the beginning I could barely make 2 laps around town (1 small and 1 bigger lap) before the motor got to 85 degrees celsius. I'll keep doing these 2 laps for testing, that way it's easy to see if there's any improvements after making some changes. Only when I'm satisfied I'll go try a longer distance.

Here are some pictures before I rode off. You can also see something new, I placed daytime running lights right below the headlights. I'm still not sure if I'll keep it this way but for now I'm liking it.



For the parking lights, low beam and high beam I also have different lights, the light on these is a bit more white than the standard ones that were in there.



First I tried removing the protective cover from the motor, this way the heat of the carbon brushes can escape. Ofcourse it won't stay like this, there's voltage on all of it while riding. But for testing it's necessary for now.



In the evening I went for another 2 laps. The difference was definately noticeable, ended up with 75 degrees celsius, already 10 degrees less. So it's clear that most of the heat has to be removed from this area. Another few pictures before I rode off.



When I returned it was already getting a bit dark, nice picture for the lights. And again you can see something I added, a second brake light in the top case. I could barely fit a whole LED strip in there and it's quite well visible. I think it's also safer since the rear light is always on. It's sometimes hard to see the brake light then, but like this it's always clear to see when I'm braking.



After these runs one thing is pretty obvious, the motor will need active cooling one way or another. The bottom of the motor and swing arm is wide open so that would be a good place to pass air through.



There's also plenty of space below the swing arm.



What I've already tried is leading an air hose to the front so wind will be caught in it and blown through the motor.



This just didn't seem to make a lot of difference, I think the opening of the air hose is just too small for it. I have now added an in-line blower and filter which constantly blows air through the motor.



The motor does get a little bit less warm now while riding and it also cools down faster when standing still. But I'm still not satisfied. I now want to try placing 3 fans right below the swing arm and using the in-line blower to extract hot air from the brush area to the rear. Don't think I can do any more than that, so I hope it'll work like that. I'm just waiting for the parts now so I probably won't be able to continue with it untill next week.

All runs I did I have filmed again, I tried with the camera on the helmet now and not on the quad bike itself and also with 60 fps instead of 30. Not very exciting yet but these still are the first few road legal kilometers.


Soon hopefully some longer runs once the cooling for the motor is on there.