Blog
/ 12V wiring diagram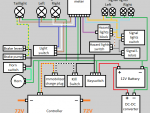 12V wiring diagram
Posted on 23 December 2012 at 05:55 pm (CET)
Posted on 23 December 2012 at 05:55 pm (CET)
As I'm planning to make a new wire harness I already started making a wiring diagram. The 12V part is pretty much done now. Will probably have to add some more to it later on for the controller and BMS but still don't know exactly what.



I think I'll just add the 72V wiring into this as well, at least I have one clear diagram for everything then.

Meanwhile I've also placed an order for the controller, charger, cables and some other small parts at Rebbl, a company that also converts cars to fully electric. If all goes well I should have all of these within 3 weeks.