Blog
/ Steel corner profiles half done and some new enclosures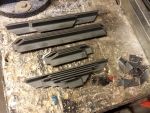 The corner profiles for the rear of the battery boxes are done. Now I still have to work on the ones for the front/cover but that'll take some more effort since I have to cut a few parts out for the cable glands and bolts.



I also bought some extra enclosures to place some other high voltage parts in. Bit easier than making something myself again. The DC-DC converter, sensor for the volt/amp meter and the main fuse will come in this large one. It'll be placed where the gastank used to be. It really fits perfectly, took a good guess for the sizes. It only wasn't available in black so it still has to be sprayed.



And this smaller one is for splitting up the high voltage cables to the DC-DC converter and charger and for both a seperate fuse. It'll be placed where the 12V battery used to be. It fits nicely as well and there's still enough space for the big orange cables which will run to the motor.



Then I also still have this one for some 12V things (main board for the Battery Management System and a few relais). Think I'll just place this one on top of the large enclosure, there's still some space for it.



Tomorrow and in the weekend I'll continue again with the corner profiles so these can hopefully get welded next week.