Blog
/ Wheels aligned and all of the lights connected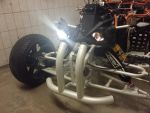 Wheels aligned and all of the lights connected
Posted on 24 January 2015 at 11:56 pm (CET)
Posted on 24 January 2015 at 11:56 pm (CET)
Thanks to the snow I wasn't able to have a test ride today. Will probably still be here tomorrow as well so it'll have to wait till next week. Hopefully the weather will be better then. The quad bike is definately ready for it.

The wheels are aligned.



Meanwhile I also connected all of the lights. Worked perfectly right away. First I had only connected the brake and turn signal lights for the test ride.



I just noticed that the turn signal lights stay on weakly while flashing. Don't think it'll give any problems for the road approval test but I don't think it should be like this. Normally they should go out completely. It's a new turn signal relay so that can't be the problem.



Since the test ride couldn't go on I also connected the rest of the lights and the horn.

Rear light.



And the headlights. Right is low beam and left is high beam, both in combination with running lights. Just like original, will leave it like that for now for the road approval test. Daytime running light is also connected but didn't take a picture of it. It's nothing special, will also be changed after the road approval test.



This coming week I will tidy everything up and maybe even add the fenders already. For the rest it's just waiting for better weather.