Blog
/ First repairs after the test ride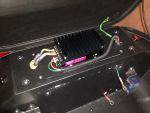 First repairs after the test ride
Posted on 19 February 2015 at 12:03 am (CET)
Posted on 19 February 2015 at 12:03 am (CET)
Seeing as a few things have broken during the test ride I've already had to do some repairs. The most important is the DC-DC converter. Ofcourse it was just out of warranty, already bought it a bit longer than 2 years ago so getting it replaced wasn't possible anymore. But I already wasn't satisfied with it since the output voltage was too low (11,9 V). So I bought a different one now, a Traco Power TEP 150. Same power, bigger input range, better isolated and an adjustable output voltage. Unfortunately it was a bit more expensive but for this price I don't think there's a better one. One more difference, it's a lot smaller.



A fusebox also broke because of the heavy 12 V battery I placed in the top case during the test ride.



Replaced it and lengthened the wires for the new DC-DC converter.



And here it's all connected. It also has the option to turn it on and off with a 12 V signal but for now I'll leave it always on.



Then something I forgot about. Before the test ride I still wrapped the whole wire harness with wire hoses. Quite a lot of work with so many wires coming together.



After that I put tape all around it.



And placed it back again. Think it looks pretty nice like this.



Currently working on putting wire hoses on all of the orange wires as well. It's for added safety and probably necessary again for the road approval test at the RDW.



The only 2 problems I still have right now are a contactor that's getting quite warm and not getting the temperature sensor in the motor to work with my Trailtech display. For this sensor I still have to contact Trailtech to see if there's a way to calibrate.
As for the contactor I've already contacted the supplier and for now they say that this is normal. Just still have to give them the complete part number so they can confirm it. But most likely it's working just fine, I just still think it's getting too warm myself. Still have to find a solution for this so it gets less warm. It now goes up to about 51,5 degrees celcius with an opened enclosure. With the enclosure closed it'll probably go up to about 70-80 degrees celcius. For the contactor itself this might not be a problem but for the other components that I've placed in the same enclosure it might.



That's about it again. Hopefully I can solve these last few things quickly so I can already make the second test ride at real full power very soon.