Blog
/ All problems fixed for now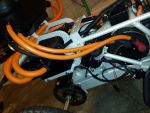 All problems fixed for now
Posted on 28 February 2015 at 01:33 am (CET)
Posted on 28 February 2015 at 01:33 am (CET)
I continued again solving the problems that I still had.

I was able to place the temperature sensor of Trailtech in the motor, attached it with JB Weld, will be stuck on there forever. Also tested it already and it seems to work well. Will find out on the next test ride if it really works properly.



I tightened all of the nuts in the motor again and added Loctite inbetween. Then I placed another nut on all of the nuts that are holding the connection points of the motor and the carbon brushes, again with Loctite. I don't really expect this to come loose again. Also lengthened the wires for the temperature sensor.



After that I placed the motor back on the quad bike again and connected the orange wires in a better way. They have a lot more play now with suspension travel of the rear swingarm, should be almost no pressure anymore on the connection points of the motor.



I noticed that there were big sparks between the contacts of the small 12 V relays when disengaging the contactors. I used some diodes for this, the contactors open a bit slower now but at least there are no more sparks anymore in the relays. Don't want to keep replacing the relays when they break.



Also added a capacitor and resistor so the contactor between the battery packs uses less power, now it doesn't get so warm anymore.



On the contactors for forward and reverse I only used the diodes since these won't be engaged for such a long time, heat won't be an issue here.



I've now fixed all of the problems that I ran into. Hopefully there won't be more coming soon since I really want to go the RDW this coming month for the road approval test. But before I go there I want to test at least once more. Tomorrow the weather would be nice and the quad bike is rideable again so I already charged the batteries a bit. ;)