Blog
/ Fitting the parts and new version of reverse system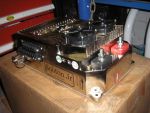 Fitting the parts and new version of reverse system
Posted on 3 February 2013 at 12:35 am (CET)
Posted on 3 February 2013 at 12:35 am (CET)
Today I didn't really do that much, only checked if the real parts fit just as good as the the paper models. And yes it did, still fits well.

Here's a better picture of the controller. On the picture from yesterday you couldn't really tell how big it is.



And here with the enclosure around it. Sadly this is mandatory to pass the inspection at the RDW. Can hardly even see the controller anymore.



Still have to drill holes into it to attach everything. It's odd that this hasn't been done yet since this enclosure only fits around this controller. So for everyone who buys one the holes will be in exactly the same spots. It also doesn't look very nice, not everything aligns with eachother (especially the rubbers don't) and they could've cleaned it a bit. Can't really get it off, maybe with some white spirit.

Also had another attempt at the reverse system. I made it like this now.



It works.. a little. Still don't think this is really great. Will probably stop to look for a mechanical solution and start looking at something electrical.