Blog
/ New adaptor for front sprocket and new rear sprocket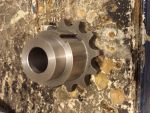 New adaptor for front sprocket and new rear sprocket
Posted on 12 July 2013 at 10:22 pm (CET)
Posted on 12 July 2013 at 10:22 pm (CET)
Finally some progress again. Or well, I'm back where I was one and a half month ago. The new adaptor for the front sprocket has been made. I asked for stainless steel but it's a steel one. Looking back at it this seems to be better anyway, I contacted some metalworking company about this. They said that stainless steel probably wouldn't be strong enough for this application. But it all fits pretty well now, also no more play between the adaptor and sprocket which was the case with the old adaptor. There's only a little bit of play between the motor's axle and the adaptor but it's very minimal. It'll be firmly attached anyway so I don't think it'll be a problem.



Just have go search for someone who has a wire cutting machine now to cut out a keyway in the adaptor and sprocket. Apparently this can't be done any other way. But after this I will actually have it the way I wanted it from the beginning.

Today I also got something else. A new rear sprocket, steel 44 tooth of a Suzuki GSX-R 1000.



The aluminium sprocket will get a new life as an adaptor. I already drew it, just still need to get it routed. The rear sprocket can then be placed more inward and the chain will then run in a perfectly straight line. This is what it'll look like.



And a quick picture of the whole quad bike after today.