Blog
/ Measuring with paper models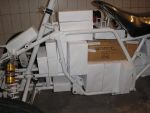 Measuring with paper models
Posted on 9 December 2012 at 07:15 pm (CET)
Posted on 9 December 2012 at 07:15 pm (CET)
I finished making all the paper models for the batteries, charger, controller and motor. Was a lot of work but I really think this is the easiest way to measure if it all fits.



It all has to somehow fit in this frame.



This is what I tried first. Since the controller is the biggest part I placed the model for it in the biggest space, where the engine used to be. However I wasn't able to fit quite a few batteries this way and not even the charger. The motor would fit very nicely in the rear swing arm though.



On the second try I did find a way to fit everything. Controller hanging on the rear, charger fits perfectly in the middle and all batteries would fit. But I'm still not completely satisfied with this layout since it will be hard to secure the real parts to the frame this way.



But either way I will have to remove some of the mounting points and the battery tray off the frame that are in the way. I won't be needing them anymore anyway. So that's what I'll be doing next.