Blog
/ Looking for a solution for the controller mounts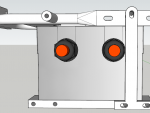 Looking for a solution for the controller mounts
Posted on 28 July 2013 at 09:49 pm (CET)
Posted on 28 July 2013 at 09:49 pm (CET)
Yesterday I evened out all the welds on the battery boxes. So I can continue with those again. But first something more important, the controller mounts. I'm drawing again to see how I want them but it seems to be a bit harder than I thought it would.

The idea is that the controller will hang from these 4 points where the exhaust silencers used to hang from.



Problem is just that a Chinese probably welded this together on a monday morning. There are a lot of inaccuracies in it. I tried to measure and draw this as accurate as possible.



There will have to be 4 mounts that go all the way down, there are 4 points where I can attach the controller.



But as I said it's all very badly welded. Here you see really well that the upper left part points a little to the right. And the left bottom part points some more to the left. The inaccuracy between the middle of both sides is 4 mm. That's quite a lot to me but it'll have to do.



Then we have the 2 rear parts, while these are actually straight looking from above, there are sadly more inaccuracies when looking from the rear. Left part points down 3 mm and the right one 1,5 mm.



But that's not all, some points are also welded a bit more to the left or right again. So it'll be very hard to make mounts for this that'll fit well. Only way to do this is by making adjustable mounts since I want to have 4 mounts that are exactly the same. More or less like this.



With slotted holes the inaccuracies shouldn't be a problem. Just still have to draw it a little better with nicer shapes.