Blog
/ Small battery box modified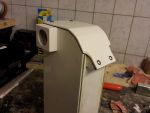 Small battery box modified
Posted on 31 May 2014 at 11:55 pm (CET)
Posted on 31 May 2014 at 11:55 pm (CET)
Today I modified that small battery box a bit since this one didn't fit very well below the carbon front fender. First I just cut a small part off to try.



But this just wasn't enough, so I had to cut off some more. Because of this I had to move the mounting points for the cover to the outside and there's also no clamp for the batteries on this side. But this isn't really a problem for this box since this will be placed almost straight up, the one clamp on the other side should be enough.



Also made a new cover since this had to be a bit longer. The bending went pretty well.



After that I made the holes in it, attached it and evened it out nicely. Then I tried fitting it again. Fits reasonably good now. Still not perfect but I can't cut anything off it anymore. If it won't work out like this I'll unfortunately have to modify the carbon fender a bit. But I think it'll be fine.



And ofcourse also a new layer of EPDM rubber inbetween.



Also rounded off the corners on all battery boxes where the steel corner profiles will come up against since the corner profiles are a bit rounded on the inside as well. So tomorrow I can finally start making the corner profiles to size.