Blog
/ Wheel hubs, bumper and wheels attached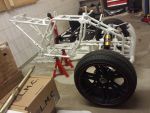 Wheel hubs, bumper and wheels attached
Posted on 22 September 2014 at 11:24 pm (CET)
Posted on 22 September 2014 at 11:24 pm (CET)
Tonight I continued again. The wheel hubs with brake discs and the bumper are now attached. And the quad bike can stand on the ground again at the front since the wheels are also on it already.



Also placed the POM bushings in the rear swingarm already so it's ready to get attached as soon as the motor is on there. But untill then the quad bike still has to stay off the ground at the rear.



The front brake system and the track rods I also can't attach for now. The steering shaft and handle bar has to be attached for this first. But the part the keeps the steering shaft in place will be sprayed together with the aluminium parts. This part also got back from the sandblaster very late, that's why it hasn't been sprayed yet. Think I can only continue with a few of the black parts now. Meanwhile I'm running out of space here, the quad bike keeps getting bigger but there are still many parts on the floor. So I'll first have to see how I can deal with that.