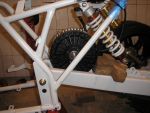 Fitting the motor
Posted on 8 March 2013 at 12:14 am (CET)
Posted on 8 March 2013 at 12:14 am (CET)
Tonight I detached the rear swing arm partially and fitted the motor. I knew that it would be a close fit but it really only has a few millimeters to spare.
Seen from the side it all fits well, some space left even.



Seen from the rear, not a lot of space but I think it's enough to still be able to mount the sprocket on there. The sprocket will stick out of the axle just a bit to get the chain aligned with the rear sprocket.



But then on the other side, I think it's 2-3 mm of space there. It's just barely enough as long as there won't be any play in the swingarm.



I'm happy that it fits just like I planned. Now I have to get some mounts made.

I also still received the new banjo bolt with sensor for the brake lights. So I replaced this one as well.