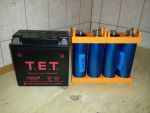 New 12V battery
Posted on 19 September 2013 at 09:43 pm (CET)
Posted on 19 September 2013 at 09:43 pm (CET)
Today I received another package from England.

They are 4x 3.2V 10Ah batteries. Same kind as the batteries used for the propulsion (LiFePo4) only smaller and round. As replacement for the original 12V battery. Everything's included to put it together and connect in series. Also 4 50A connectors to be able to easily unplug the charger and DC-DC converter. All pretty hard to get here in the Netherlands.



Here you can see some comparisons with the original battery. The original one is 12V 9Ah, the new one is (in total) 12V 10Ah. Weight differs quite a bit too, original is 2,8 kg. This only 1,4 kg, so half of the weight.



It just doesn't fit in the space I had in mind, but can place this anywhere really so it'll be all good. Can also make a square of it or an L shape.