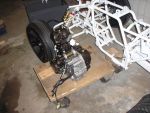 Posted on 3 December 2012 at 12:00 am (CET)
Posted on 3 December 2012 at 12:00 am (CET)
Today I've been busy removing the last part from the frame, the engine. Only problem was the carburetor, some hose and the exhaust still being in the way so I had remove these first. I also still removed the radiator.



Now it was finally time to remove the engine. While it went easier than I thought since the engine is pretty lightweight I was still happy to have this cart on wheels here so I could easily roll it out of the way.



The frame is all empty now. For the rest I don't think I'll have to remove anything else for now.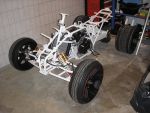 Posted on 2 December 2012 at 01:00 am (CET)
Posted on 2 December 2012 at 01:00 am (CET)
Continued disassembling again. I was able to remove the whole wire harness now and the rest of the electronics. I also removed the nerfbar and hielguards so I'll have some more space to remove the engine. Ofcourse I also had to remove the chain for this.



Frame is almost empty now. Only the radiator and engine left. But I'm stuck with lots of spare parts now. For now I just put them in boxes and hung up some of the bigger parts. I'll have to go and make something soon so I can store everything properly.



Meanwhile I also returned the white fenders and received the red side ones.



Seeing as I also have an idea already which batteries I will be using (CALB SE 70 Ah) I started making some paper models. This way I can easily see if and how they will fit in the frame as soon as the engine is out. Quite some work to fold and glue them all, pretty much like in kindergarten. But it'll be all worth it.