Blog
/ Covers attached to battery boxes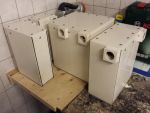 Covers attached to battery boxes
Posted on 18 April 2014 at 10:46 pm (CET)
Posted on 18 April 2014 at 10:46 pm (CET)
This past week I've been busy finally finishing the battery boxes. Went pretty good, the covers are now attached. Just need to tidy them up a bit, spray them and add some EPDM inbetween and then they're really done.

First I sawed some new plates for the covers. The ones I already made didn't really fit anymore since I took apart the battery boxes back then and widened them a bit. I made these a bit bigger now so I could make them perfectly even with the boxes after attaching.



Just like with the clamps I drilled the holes through the covers and clamps to get everything properly aligned.



Then I made the holes in the clamps a bit bigger, added rivet nuts in there and placed rubbers on them. I also still glued those 2 extra pieces in the big battery box so the cover would stay closed on those places as well.



After that I could attach the covers on the battery boxes.



Also filed the covers already so they're even with the battery boxes, looks pretty nice now.



Don't have to do much with these battery boxes anymore now. The next step is finding a way to attach them to the frame.