Blog
/ Checking how the charger fits and idea for mounting the battery boxes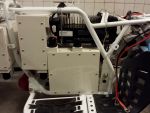 Besides the battery boxes there's still something else that has to be attached to the frame, the charger. Today I checked how it would fit and what I'll have to make for this. Thought I'd show how it'll be placed, don't think I've showed this yet.



It'll be placed as high as possible so I can still easily get the large battery box in and out without having to remove the nerfbar, pedals and heel guards. But I won't bother thinking too much about how to attach this. There are already 4 mounting points on there (also 2 on one side but I'll have to cut these off since they're in the way). On the front I can just weld a thick steel plate at the top between the tubes and place 2 long studs down there. On the rear I can weld 2 mounting points on that tube in the middle and bend the mounting points on the charger itself straight down. Will be firmly attached like that I think.



And the idea I have for the battery boxes is just some corner profiles of 3 mm thick steel welded together with some mounting points on there. There'll also be mounting points on the frame itself and they'll be firmly attached like that. I'm not really sure yet if it'll actually be like this but I think it will.