Blog
/ Mounts for top case and rear lights are done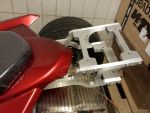 Some good news again today, the mounts for the top case and rear lights are done. They're really nice looking again thanks to Geraets Metaalbewerking. It's always amazing to actually see something like this made from a drawing. Here are all the parts together.



Attaching them was a bit difficult, the mounts weren't the problem but ofcourse the Chinese welds again. Had to add quite a few rings again to get the mounts straight and make them fit. But it's not that bad, I think I just need to get some longer bolts now since the nuts are barely on there.



But eventually they were nicely attached to the frame.



And with the fender it just barely fits, it was meant to be this way but it was still pretty exciting if it would actually fit or not.



The lights and mounting plate for the top case attached. I thought I'd have to modify the rear light a bit so it could sit a bit lower but this is not necessary, fits just right with about 0,5 mm of clearance.



And then with the top case on there. Looks pretty nice, doesn't sit too high or too low. And also not too much to the rear which is usually the case with most of the top cases. It's also very firmly attached, if I try to move the top case the whole frame moves. So the mounts are definately strong enough as well.



Meanwhile I also modified an old power supply of a computer to be used as a 200W 12V converter. I can now easily use this to test some things sometimes. Much easier than having to charge that small 12V battery every time which is always empty again after 5 minutes.



I've also been busy modifiying the small battery box, but I'll probably show that tomorrow when it's done. This weekend I'll start on making those steel corner profiles to size.