Blog
/ Quad bike dismantled, gauge and charge plate done and some new parts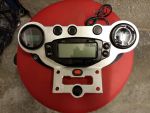 Much has happened again this week. I completely dismantled the quad bike so that all parts of the frame can be sprayed soon. Was pretty fun since I've literally had each and every part of the quad bike in my hands, I know exactly how it all fits together now. I've also come across certain things that I'll be replacing right away with better alternatives, especially the bearings and the bushings in the front swingarms and rear swingarm.



I was able to remove the whole brake system without even having to disconnect a single brake line.



And this is what the quad bike looks like right now, only parts everywhere.



I already removed the bushings in all of the swingarms. These are all still new bushings but they don't really look like that. These Chinese bushings also don't really work like rubber bushings are supposed to work, they're actually hinging in the swingarm itself instead of in the rubber so it's steel on steel. This will wear out very quickly, especially since there was no grease at all anywhere. The plan is to place POM bushings in here, works much better and lasts much longer too.



I also got some new parts again. These are all the wires that I'll need to make the whole wire harness.



There's also a handle switch and 2 mounting points for the mirrors. And also a seperate killswitch with cord so the high voltage will be disabled if I leave the quad bike in any way.



But the most important is that the gauge and charge plate are done and thanks to Geraets Metaalbewerking they turned out very nicely again. Everything fits perfectly again as well. I just can't really show yet how it'll all be mounted exactly since the quad bike is dismantled but to give an idea I've made a few pictures.



I'm working on making all of the mounting points to size now, these might get welded to the frame this coming week then.