Blog
/ Epoxy on controller's enclosure and primer on all plastic parts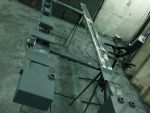 Epoxy on controller's enclosure and primer on all plastic parts
Posted on 2 September 2014 at 11:00 pm (CET)
Posted on 2 September 2014 at 11:00 pm (CET)
The enclosure that will come on the controller has been sprayed in black epoxy as well yesterday evening. This will probably only stay on it temporarily till after the road inspection of the RDW. A different better looking enclosure will come on it then. But for now I wanted it to look good since there were quite a few scratches and fingerprints on this one. This will also become matte black.



All plastic parts were also sprayed with primer, so no epoxy for these. First a picture before spraying.



And after spraying.



I have yet to actually see it myself but on these pictures that my sister sent they're looking very nice already. This Saturday all parts that will become black will probably get their spraycoats. So it'll be very exciting again.