Blog
/ All parts of the frame sprayed and back home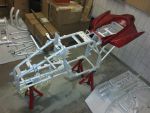 Today was a very exciting day again. All parts of the frame were sprayed in the beautiful color Bianco Canopus. I've seen this color on pictures with Lamborghini's often but never on a frame so I really had no idea what it'd look like. But I'm really happy that I chose this color. It looks really great, especially when there's some light shining on it. And my sister has done a really good job again, don't think anyone could get it any better looking than this.

As usual here's a picture again before the spraying. The layer of epoxy is a bit sanded here so it already looks like matte white.



And after the spraying. Much light in the spray booths so it already looked very nice.



Wrapped everything again to get it home without any damage. It all barely fits in my car.



At home I unwrapped everything again and right away I placed a fender on it to see the combination of the 2 colors. I think it looks really awesome. I made these pictures with flash so you can see a little how this color looks like with some light shining on it. But outside with sunlight, and also with you own eyes, it looks even better.



Tonight I already started building it up. First I placed the new SKF bearings and glued the magnet for the speed sensor.



Then I attached the lower front swingarms with the POM bushings in it and the shocks to the frame. Pretty fun knowing that this is finally the last time attaching everything.



Also placed the shock covers already. Looks a bit odd still but I kinda have to see it when everything is attached.



The plan was to spend the whole day tomorrow to continue building it up but unfortunately I have a problem with my car that has to be fixed before Monday so I think I'll be working on that the whole day tomorrow. So the quad bike will still have to wait a bit.

In about 2 weeks the last parts will also be sprayed. These are all of the routed aluminium parts. So I'll have to be patient with those again but if they turn out the same way then it's definately worth the wait.