Blog
/ Epoxy on all of the aluminium parts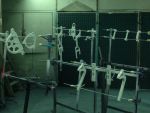 Epoxy on all of the aluminium parts
Posted on 23 September 2014 at 11:12 pm (CET)
Posted on 23 September 2014 at 11:12 pm (CET)
My sister had a little surprise for me today. While I was busy making some space so I could turn the quad bike around she was already spraying a layer of epoxy on all of the aluminium parts. This was actually going to be done next week so that was definately nice to hear. She also sent a few pictures again.

Here before spraying. All parts were also sanded a bit.



And after spraying.



This Saturday they will all be sprayed in the same color as the frame and I can take them home again. I'm really curious how these parts will look like in that nice color.

Tonight I only made some space and turned the quad bike around so it's easier for me to work on. A few of the black parts are also attached now. Looks very nice in combination with the white, just can't really see it well yet in the picture.



The coming days I'll probably be busy with some of the smaller boxes already placing some electric components in them.