Blog
/ First high voltage parts placed in a box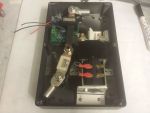 First high voltage parts placed in a box
Posted on 7 October 2014 at 12:01 am (CET)
Posted on 7 October 2014 at 12:01 am (CET)
Tonight I finished the first box with high voltage parts. Had quite some work with this one since the standard mounting points weren't really useful and the box is also too low to make a plate for the bottom. Was also quite tricky to decide where to place everything, still is far from ideal but I can't really think of any better way.



In this are the main contactor (splits the battery pack in two to safely work on it and for emergencies), sensor plate for EV Display (gauge) and the main fuse. The orange cables I still have to connect, will do this once all of the boxes are done and placed in the frame. I did however connect the 12V part already, wasn't really much work for this box.



I also started with the last box already, this one's easier and will probably be finished tomorrow already. Meanwhile 15 of the 24 batteries are also charged already. So this weekend I hope to have them all charged. Then I can finally start placing them in the boxes and in the frame.