Blog
/ Wires between battery packs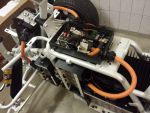 Wires between battery packs
Posted on 16 October 2014 at 11:59 pm (CET)
Posted on 16 October 2014 at 11:59 pm (CET)
Yesterday and today I've been busy making the wires between the 4 battery packs. First I checked which size I needed to crimp the cable lugs. I just used a small piece of wire for testing. I also have 2 different kinds of cable lugs, one thicker than the other. I can't use the same size for both of them. You can see this here with the wire on the right, this is a thicker cable lug and crimped it with the same size as the thinner cable lug. Because of this you get some extensions on the sides. If a wire like this gets used it can melt or even cause a fire because of the heat build up. The left and middle one are crimped with 2 different sizes and are perfect. So that is how they all should be.



Now I could start with the real wires. First I stripped the wires and crimped the cable lug onto it.



Then I made the wire to size and did the same on the other side. I just placed the cable glands on it first because they don't fit over the cable lugs.



That's how I did all of the wires for the battery packs and they're all done now.



Tomorrow I'll continue with the wires between the whole battery pack and the controller. These are a bit more difficult since there's also a seperate shielding in these wires making them more stiff. Also have to do some other things with these but I'll probably show this tomorrow.