Blog
/ Charge inlet connected and continued with wire harness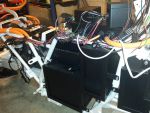 Charge inlet connected and continued with wire harness
Posted on 19 December 2014 at 12:11 am (CET)
Posted on 19 December 2014 at 12:11 am (CET)
Past few days I was able to do a bit more again. The charge inlet is all connected now. Just still have to find a way to seal the rubber at the bottom.



I also still continued with the wire harness, there are quite a few wires added again and everything that had to be combined is already soldered.



The wire harness is almost completely done for a test ride now. Just still have to add the wires for the lighting after that. But I'm still waiting on the new wires that I ordered, untill I get them I can't really continue with it.