Blog
/ Controller connected and more wires to top case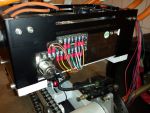 Controller connected and more wires to top case
Posted on 30 December 2014 at 11:52 pm (CET)
Posted on 30 December 2014 at 11:52 pm (CET)
Just a quick update before the end of the year. I continued with the wiring again. The wire harness itself is pretty much done. Just still had to connect everything at the rear to the controller and in the top case.



On the controller I've done it already, everything's connected there now.



In the top case I removed the protective plate again and made some modifications. The round holes are for cable pass through and some switches. What the bigger holes in the front side are for I'll show you in a few days once the plates are sprayed and everything's on there.



The wires to the top case are also all in there already, just still have to connect them all.



And the thicker high voltage wires for the DC-DC converter are also ready to be connected.



Next year there'll be more updates again. January will be very fun, that's what I can tell already.