Blog
/ Motor and controller covered up, rear lights attached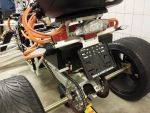 Motor and controller covered up, rear lights attached
Posted on 16 January 2015 at 11:37 pm (CET)
Posted on 16 January 2015 at 11:37 pm (CET)
I have all of the connections on the controller and motor covered up now. should be safe enough like this.



Also placed the last part of the enclosure on the controller. Doesn't look very pretty but for now it'll have to do. It's important for the road approval test at the RDW.



After that I already attached the rear lights and license plate holder. It all barely fits between the controller's enclosure and top case.



A long while ago I already made the charge cable but I had to get a different plug for this back then. I still hadn't put that one on yet so I've done that as well now. It's not suitable for charge stations, I won't make use of them anyway. Will just be charged from an outlet at home.



And then some more good news, charging the battery pack for the first time went perfectly as well. The battery cells were all still close to full so it didn't need much time. The BMS disables the charger when it has to so no problems there either. Only thing not working is a button I want to use to enable and disable the charge process. Just still have to add an extra relay to it so that's an easy fix.