Blog
/ Second test ride with some more power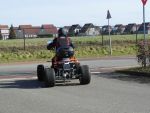 Second test ride with some more power
Posted on 1 March 2015 at 12:58 pm (CET)
Posted on 1 March 2015 at 12:58 pm (CET)
Yesterday I went testing for the second time. First I went to a boatyard's parking lot nearby. Usually you can drive all the way around but since the water was high this unfortunately wasn't possible now. But the asphalt also wasn't as good as I thought, because of this it turned out to be a good test to check if any bolts or nuts would still come loose though. ;)



I rode around here for a while and it was very fun again. Could really notice that I had a lot more power now than during the last test. Acceleration was much quicker now. But I still don't think I had the full power. The highest I've seen is 315 A while everything is set up for 400 A. But I also couldn't keep looking at the gauge the whole time since I had to keep looking where I was riding. For the next test I'll just place the camera in front of it, then I can at least see everything at home.

But everything went well, nothing came loose anymore and nothing broke either. The temperature sensor in the motor is working fine as well. Only problem was that the motor got pretty warm quickly and I had to let it cool off a few times. It's probably because the brushes aren't properly seated yet so I'll just have to wait and see. On the parking lot I also couldn't really reach a high speed and was really only accelerating and braking the whole time. So I left there and since I couldn't resist I did a few quick runs on the road. :)



The real fun started here since this was actually the first time at higher speed. The quad bike again did very well here, it all felt great and it just kept accelerating nicely. It definately has more than enough power. First I tested at low power (Eco mode) so the motor wouldn't get so warm right away. Accelerates less quickly then but on that road I was able to get up to 75 km/h (46 mph).
But I knew that it could do more so after that I tested again but this time at high power (Sport mode). I reached 75 km/h (46 mph) very quickly now and was able to get a maximum speed of 82,6 km/h (51 mph). That was pretty much the goal of this test, getting above 80 km/h (50 mph) for the first time. And that has also succeeded. :)

In total I rode almost 10 km (6 miles) again, so the same as the last test. Only the ride time was a bit less this time since the quad bike was much faster now. ;) Only thing I need to keep an eye on for now is the temperature of the motor, at the moment this is getting a bit too high.



Ofcourse I brought the cameras with me again and made a video again. Think you can see really good that the quad bike has more power now. :)


This coming week I'll order the new tyres so the Chinese tyres can go off. And I'll also completely finish the quad bike by adding the fenders on. I'll probably test once more before I go the RDW but for now it's all looking good. If I don't run into any problems anymore during the next test then I also don't really expect any problems at the RDW. It'll definately be very exciting.