Blog
/ Identity check and re-affixing of the chassis number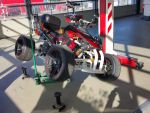 Identity check and re-affixing of the chassis number
Posted on 21 May 2015 at 07:44 pm (CET)
Posted on 21 May 2015 at 07:44 pm (CET)
I left early again this morning to go to the RDW for the identity check. Didn't have to drive as long this time, for this check I could just go to the nearest inspection centre.



Had to be there at 8 o'clock and I was even first in line. The spot of the chassis number was inspected and also all of the documents and pictures I took with me.



Thankfully this all turned out good. Normally you'd have to make a new appointment to get the chassis number re-affixed. But I got lucky, the one who's authorized to re-affix chassis numbers was present and also had some extra time. So the chassis number got re-affixed already. :) It was a bit of a search for a suitable spot since the tool they use for it is quite big and apparently doesn't work well on tubes. Thankfully there's one nice flat area on the quad bike, right below the seat. I did have to remove the whole rear fender but the chassis number is on it now. :)



After all this I came home from the RDW again with a good feeling. Just still have to modify a few things now and then I can go back for the approval test. Hopefully it won't take as long this time till I can go there.