Blog
/ Problems with brake system now solved completely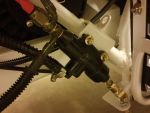 Problems with brake system now solved completely
Posted on 21 June 2015 at 09:17 pm (CET)
Posted on 21 June 2015 at 09:17 pm (CET)
This weekend I worked on the quad bike again. I had some issues with the brake system again. Every time after bleeding the brakes the brake pressure was good but a few days later the brake pressure was suddenly much less. I already wasn't satisfied with the brake pressure of this new brake cylinder. Probably because the piston is much smaller than with the original brake cylinder. But I thought that one was broken, so I just wanted to try a different one.

To be sure I tried again with the old brake cylinder and as it turns out it's still working great. I also discovered why I wasn't getting any brake pressure with this brake cylinder last time. I totally missed this one washer that apparently comes with a new banjo bolt with built in brake pressure switch. It has exactly the same color as the banjo bolt.



I placed an extra copper washer between this which made the banjo bolt not thread into the brake cylinder deep enough. Because of this the distance between the piston and the banjo bolt was too big to be able to build up any brake pressure. I removed this washer now so the banjo bolt is threaded deeper into the brake cylinder. While bleeding the brakes I already got brake pressure very quickly now. After the bleeding the brake pressure is also much better than with the smaller Brembo brake cylinder. So for now I'll just keep using the original brake cylinder again.



Since it always took pretty long before I had the quad bike attached on the trailer I bought some new clamping straps. With these I can get it attached on the trailer within 5 minutes. Also placed 2 wheel blocks on the trailer so I can't drive forward too much and damage the bumper while doing so. This nearly happened once. ;) The quad bike is also always exactly in the middle like this.



Now I just still have to wait for the approval test. Meanwhile I do finally have an appointment. The approval test will be in 9 days already, on June 30th. Will have to be there at 8 o'clock in the morning again. It's going to be very exciting again, but I have faith that everything will go just fine this time around. :) I also really hope so cause I finally want to go out on the road and ride it. ;)