Blog
/ Motor cooling improved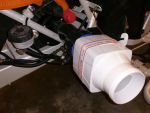 Motor cooling improved
Posted on 12 August 2015 at 12:04 am (CET)
Posted on 12 August 2015 at 12:04 am (CET)
After making a few modifications the motor gets cooled a little better now. The motor doesn't get warm as quickly now and when standing still the temperature drops rather quick. But still the motor does get a little too warm after riding for a while, even on continuous power.

First modification is 3 fans right below the motor, these blow air from below through the motor. For testing I just attached them with some velcro.



I just have the idea that it doesn't really work that great while driving since the airflow is probably pushing all of the air out of the way. So I'll have to close this off a bit with some kind of air intake on the bottom, should work a bit better then. I also ordered the wrong fans, these don't have enough airflow. I've now ordered some that have double the airflow and are a little bigger.

The second modification is a hole in the protective cover of the motor. I just placed a hose on there with the in-line blower. This one sucks the hot air out of the brush area.



This seems to be working pretty well, just makes a lot of noise. But even like this the motor still gets a bit too warm (73 degrees celsius on continuous power). I could still try to turn around the in-line blower to push air into the motor. Just still have to add an air filter then.

But at least for testing I can now ride a bit longer distance. I've done this a few times already. Here's a video again of last weekend. Went out for a ride in the evening, came across 3 very nice classic cars just within 15 minutes of riding time. Also did one more lap in the dark, thought that was pretty amazing. :)