Blog
/ Controller and motor test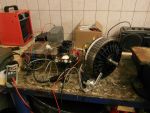 Controller and motor test
Posted on 9 March 2013 at 10:06 pm (CET)
Posted on 9 March 2013 at 10:06 pm (CET)
Today I made a test setup to check if the controller and motor work well. First I setup the controller on my computer, very easy to do and can't really set anything wrong because of the clear descriptions. I then cut some cables out of the old wire harness, didn't really have anything else to use. To be sure I also added the keyswitch so I could turn it on and off.



Thankfully everything worked perfectly. Also made a short video so you can see the motor spinning. When turning on the controller you always have to wait before you can control the motor because the capacitors are being charged up. If this wouldn't happen and they directly get high voltage it could damage them. After this is done the contactors (big relais) close, the motor can be controlled and you can 'drive'.


Sorry it's so short, had a bit more footage but something went wrong with filming. By the way, this is with 2 12V batteries in series, so 24V. But in the controller I set a limit for the motor of 13V 10A. Did this because I wasn't sure the small Chinese wires I used would survive with higher voltage and current. But I must say I'm impressed, it was already pretty hard to keep the motor in place with 1 hand when I fully opened the hall sensor, already noticed the torque quite well. I did see 16V going to the motor and 18A so the limit isn't working perfectly. So this was 288W (0,288kW). Still hard to imagine how it'll be like with 25+kW but it's looking good.