Blog
/ BMS and connections added in 3D drawing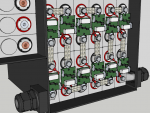 I've continued with the 3D drawing.



I think the only way to secure the batteries is to place an L-profile of the same material as the battery box at the top and bottom and fasten them from the outside with bolts. I want to use rivet nuts with this and seal it with rubber to make it waterproof. No idea how else to do it.

I'm also not really sure yet if the batteries will actually be placed in this position, will have to wait till I receive the batteries. Only then I can see how they'll fit.