Blog
/ Emergency switch 3D drawing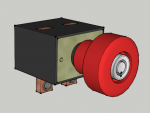 Emergency switch 3D drawing
Posted on 15 April 2013 at 09:59 pm (CET)
Posted on 15 April 2013 at 09:59 pm (CET)
As long as I have to wait for the motor mount I'll just continue drawing. Starting to enjoy it pretty much.

So here's the next part, the emergency switch.



Enclosure for this is also done already. The real one might be a little different though, will have to see how it'll fit where the gas tank used to be. Also want to place the charge plug there so I don't know if there's enough space for both.



This one will be in the middle of the battery pack (after 12 of the 24 batteries) so that there's no more voltage on both the positive and negative after the batterypack when this is pressed. And I'd also have to voltage split (2x 36V instead of 72V). This will be a bit safer again than just placing it on the positive cable of the battery pack like I was first planning to do.

Now to continue with the rest of the battery boxes.