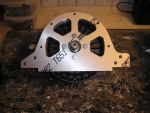 Motor mount done
Posted on 25 April 2013 at 10:19 pm (CET)
Posted on 25 April 2013 at 10:19 pm (CET)
Another update today, very good news. I received the motor mount. It looks even better than I imagined, it really is a great looking mount. And even better, it fits exactly the way I wanted.



The measurements are exactly right, the mount sits perfectly flat on the motor and the mounting holes line up perfectly. Just still have to get some longer M6 bolts for the outer mounting points of the motor.



And it looks great on the rear swing arm as well. Just don't know yet if I'll get it sprayed just like the whole frame or that I'll get it anodized in a nice color. It should stand out a bit I think.



Had a look how the chain would fit since I wasn't sure that it would with the bolts sticking out. But as you can see it's no problem at all, fits perfectly. It just doesn't go straight now but on the rear it should come a bit more towards the swingarm. Can't really see this yet untill the sprockets are done.



I only don't have the steel blocks that will get welded on the swingarm back yet. They'll still be made this week I think. I also gave my friend both of the sprockets so the holes could be made in these. There will also be an adaptor made to be able to fit the front sprocket to the motor's axle. This will hopefully all be here next week.