Blog
/ Motor finally attached to the rear swingarm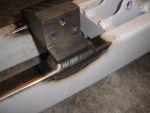 Motor finally attached to the rear swingarm
Posted on 22 May 2013 at 12:14 am (CET)
Posted on 22 May 2013 at 12:14 am (CET)
Good news after today! The motor is finally attached to the rear swingarm. The blocks were TIG welded onto it and it looks very nice. The welder also said that this weld would never crack. And even if it did, I could return to him and he'd repair it for free. So I think it's safe to say that it's definately sturdy enough. He did say though that the original welds on the rear swingarm weren't so great and those could crack some day, but well it's a Chinese quad bike so you never know what to expect.

Here are some pictures.



On the bottom the rear block was welded entirely as well, only the front block is welded about halfway since he couldn't reach it that well. But it's sturdy enough anyway. Don't really expect to ever get any problems with this.



I also attached the rear swingarm with motor back to the frame again. And then I came to the conclusion I was very lucky with the welding. Between the motor and suspension is only about 2 mm of space. Thought I'd have a lot more space there. But I'm in luck, it's just enough. And when the suspension compresses the space only gets bigger so no problems with that either. This way I only have more space to place the charger and the batteries so it's all good.



Now to wait for the adaptor and sprockets.

When I wanted to attach the rear swingarm to the frame again I suddenly saw some brake fluid on the floor. The hose between reservoir and brake pump was all wet. So I removed it to take a look. It's very small rubber en apparently not really resistant to dot 5.1 brake fluid. For now I replaced it with a fuel hose but I'll have to get something else for this.