Blog
/ Chain tightened and another modification needed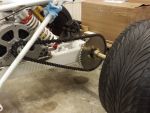 Chain tightened and another modification needed
Posted on 25 May 2013 at 08:30 pm (CET)
Posted on 25 May 2013 at 08:30 pm (CET)
Today I tightened the chain. Usually this should be very easy to do but it took quite some effort here. When the bearing house was in the front position I could see it wasn't possible to take out another link.



But when I turned the bearing house as far as possible backwards the normal way the chain still wasn't tight enough.



It was also very difficult to turn the bearing house. I was even unable to move it at all at some point. The cause of this turned out to be the plate that the brake caliper is attached to. Took this off and it was a lot easier to turn the bearing house. Just still not far enough to tighten the chain. But after that I did still find a way to tighten it a bit more than is possible the normal way. I attached the brake caliper's plate again but outside of the part that keeps it in place. This way I could turn the bearing house just a bit more. And it turned out to be just enough, the chain is tight now.



But there's still a problem, I saw that the chain isn't sitting in a straight line. This will still have to get fixed, probably with an adaptor so I can move the rear sprocket a bit more towards the swing arm. I can't move the front sprocket any more to the outside because of the frame. What could be an even better idea is to turn the current sprocket into an adaptor and get a new sprocket from a known brand. This way it'll be a lot easier in the future to get my hands on a new sprocket instead of having a custom one made again.