Blog
/ Motor's axle damaged and repaired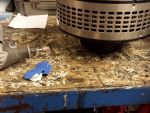 Motor's axle damaged and repaired
Posted on 8 June 2013 at 11:37 pm (CET)
Posted on 8 June 2013 at 11:37 pm (CET)
Was busy making a small plate for the RPM sensor, had to remove the adaptor with sprocket from the motor for this. But I couldn't get it off, seemed to be stuck somewhere while the set screw was loose. So I went to buy a set of disk pullers to still be able to take it off. After 2 hours and 2 broken disk pullers I finally managed to take the adaptor off. But what I saw next didn't really make me happy. The axle was damaged by the set screw that's in the adaptor.



I think this happened because the set screw was tightened and after that I tightened the bolt on the sprocket. This also moved the whole adaptor and so this is the consequence. Partly my own mistake ofcourse but also the design with the set screw not working well. Wasn't my own idea anyway, I wanted to do it differently.

The adaptor itself is badly damaged as well by all the attempts to get it off with the disk pullers. Didn't mind it that much, was more important that the motor would not get damaged.



I now want to have a new adaptor made that exactly matches my own idea. It'll have a keyway so I can just place a key between the axle and adaptor. A lot better and stronger that way. The sprocket will be attached the same way though. It will also get the exact size needed so that no set screw will be necessary. The bolt on the sprocket will keep it attached on the axle.

I checked if I could repair the axle a bit and it went pretty well with a fine grinding stone and some fine grit sandpaper. It'll ofcourse never be as new anymore but I don't think I could get it any better than this.



Now I have to wait again for the new adaptor. Meanwhile I can already start on the battery boxes though. Only having some trouble with plastic welding so I'll glue the insides first and maybe after that I'll still weld the outsides.