Blog
/ Removing the engine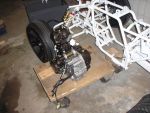 Removing the engine
Posted on 3 December 2012 at 12:00 am (CET)
Posted on 3 December 2012 at 12:00 am (CET)
Today I've been busy removing the last part from the frame, the engine. Only problem was the carburetor, some hose and the exhaust still being in the way so I had remove these first. I also still removed the radiator.



Now it was finally time to remove the engine. While it went easier than I thought since the engine is pretty lightweight I was still happy to have this cart on wheels here so I could easily roll it out of the way.



The frame is all empty now. For the rest I don't think I'll have to remove anything else for now.