Blog
/ Continued with battery box #4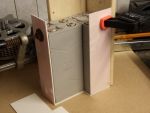 Continued with battery box #4
Posted on 26 June 2013 at 11:46 pm (CET)
Posted on 26 June 2013 at 11:46 pm (CET)
Just as I thought, the last battery box is pretty hard to make. The sizes of the plates really have to be perfect for this one otherwise the batteries won't really fit well. But 2 plates are already glued now. Will take me 3 days to complete this one though since there are more plates than with the other boxes. Can't glue everything at once as the plates might move a bit because of the clamps.



Hope to be done with all the boxes in the weekend. Then I will glue them all one extra time on the inside and weld them from the outside.

But they're still not ready then, the higher parts for the cable glands still have to be added around the holes. And the clamps to keep the batteries in place with all the holes to attach the covers. And some EPDM rubber inbetween. Think I'll still be busy with this for another week or two.