Blog
/ New idea for controller mounts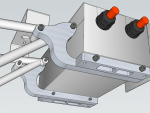 New idea for controller mounts
Posted on 22 August 2013 at 12:10 am (CET)
Posted on 22 August 2013 at 12:10 am (CET)
Today I contacted the metalworking company, the parts are almost done. They just had to order some things to be able to broach the keyway in the adaptor, guess they didn't have the right size. And the key itself had to be ordered as well. It might still arrive there this week and then everything would be done. Really looking forward to see what they made of it all.

Then on to the controller mounts again. I'm going to do this differently now. The rack with those 4 points of the exhaust silencers will be removed. It just wouldn't have enough clearance with the chain if I'd hang the controller from there and it didn't help that those points were out of alignment either.

So now I'll be using the 4 points on the frame itself (where the rack was actually attached to), these are pretty much straight and it'll be a lot easier to make mounts for this. I tried to measure and draw these points again.



And this is what I have in mind. Looks good and strong enough.



But then I do still have to make something to attach the rear lights to. But I can figure that out later, will probably be seperate mounts on the inside of those same 4 points.

Meanwhile I also made some paper models to see how they fit on the frame. They'll fit pretty good and will never have any problems with the chain. Just still have to wait untill I have the other parts back so I can see how low I can make the mounts.