Blog
/ Last preparations for testride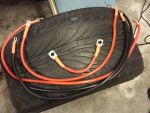 Last preparations for testride
Posted on 15 September 2013 at 12:10 am (CET)
Posted on 15 September 2013 at 12:10 am (CET)
Today I made some thicker cables so I can test with some more power tomorrow. Top speed won't really be high with just 20-24V but will probably have some more torque since I can push more amps through these cables.

Was quite some work to make them the right size and to put the cable shoes on them. But I bought an hydraulic crimping tool a while ago specifically for this so it went reasonably well.



Also put some heat shrink around the cable shoes. Might be using these cables more often when I'm bored.



Then I had a whoopsie moment. Was planning to place the sensorplate for the display on the shorter cable. But I already put both cable shoes on it so I couldn't get the cable through the sensor anymore. Since I didn't have any extra cable shoes of this size I just cut the cable, placed the sensor and soldered it. I just couldn't get the cable hot enough so it's pretty badly soldered. Only the outside really, on the inside there's no solder and the wires are just pressing against eachother. For longtime use I definately wouldn't accept this. But just for testing tomorrow it should be fine.



The 2 car batteries are also on, I'm fully charging one of them now. Tomorrow I'll just have to put a strap around them to keep them in place. The Chinese really did make a good frame. Both of the batteries just fit exactly in width. There really is no space left between them, not even 0,1 mm I think. Like they knew I was going to do this when they welded this frame.



So tomorrow will be another exciting day hopefully without problems. In any case the quad bike's ready, just still have to fully charge the 2nd battery tomorrow and connect the cables.